Upcoming Events
Donate and Volunteer
Get and Stay in Touch
Sign up for the weekly newsletter on the Charms site
Get the Remind app; find our code in Blend
Save the Date
Sign Up Now to Help Create an Amazing Haunted House!
Please sign up here for any time you can offer on weekends and even some school days or evenings to help us create an amazing experience sure to draw crowds. Monster Concert & Carnival is our biggest fundraiser of the year, and one of the major attractions is our haunted house. Orchestra students help build, decorate, and staff it, making it a great bonding and leadership experience. But we need your help, too!
Pre-Order Your Monster Concert T-shirts by Oct. 1!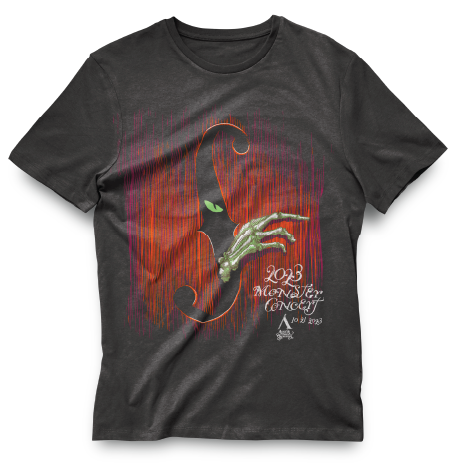 Order your student's T-shirt and make sure you get yours, too! Preorders close on Oct. 2. Pick up at the Monster Concert & Carnival merchandise table. Your student may receive their's separately. Short-sleeved Ts are $15; long-sleeved Ts are $20. They're available in youth sizes and adult sizes up to 3XL.
Pre-Order Your Monster Carnival Wristbands and Save!
Pre-order your wristbands by October 18 and save 20-25%! We're offering three levels of wristbands this year to meet your family's needs, plus wristbands just for Haunted House entry.
Interested in the Spring Trip to New York? Let Us Know!
Please fill out this Spring Trip Interest Form if your student is interested in the 2024 spring trip to New York City. Proposed dates are March 8-12, 2024. The approximate price is $2,200 per person. With all of the music and cultural activities on offer, it's sure to be a great trip. More details soon as we work out logistics and AISD permissions.
Sign-up Up for Volunteer Alerts
Please sign up for volunteer alerts if you're interested in getting notifications when we've got new volunteer needs.
Apply for Orchestra Fee and Expenses Scholarship
The mission of the Austin High Orchestra Booster Club is to support every student who participates in the orchestra program, or who would like to. We recognize that the cost of participating isn't easily absorbed by every family, and we're here to help. We offer scholarships to help cover the fees and expenses related to the Austin High Orchestra program. If you would like to apply, please fill out the AHS Orchestra Scholarship Request Form.
Food Survey
Complete the food preferences survey to let us know how many students have vegetarian, gluten free, or other dietary restrictions. Help us plan meals before concerts or other activities.
Early Practice Protocol
Remind your student to sign the attendance sheet so they receive full credit for showing up!
Affordable Music Lessons at School
All new and returning orchestra students are encouraged to take music lessons to help them prepare and grow. Affordable music lessons are available with private teachers, who come to the school. Click here for contact information for the instructors.
New Orchestra Club
Sign up here to express your interest! The Orchestra Student Council is forming a new orchestra club, a branch of the orchestra program! Anyone interested in going the extra mile in orchestra, has a piece they would like to play, or is interested in small ensemble playing, this club is for you. The club will have performances periodically during and outside of standard orchestra concerts. The club will meet on Tuesdays after school until 5:30 pm.
Orchestra Dues
Like all high school arts and athletics programs, the AHS orchestra program has dues that are required for all students to help cover the cost of concert uniforms, music binders, and more. The dues are $175.00. You can make checks payable to Austin High Orchestra or pay online using this link. Through the parent boosters, we offer scholarships, so please contact Mrs. Solis if you have concerns.