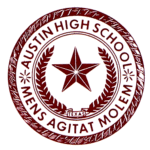 The orchestra program of Austin High School welcomes you and your family into this exciting, diverse, and unique community!
The orchestra program at Stephen F. Austin High School, led by Ana Maria Solís de Herrera, is highly regarded by Austin High faculty and students as well as the broader Austin music community. The orchestra enjoys a well-decorated history, including awards from state and national music festivals and consistent top scores in UIL competitions. Individual members have received awards and scholarships and have gone on to careers in music, from education to the New York Philharmonic.
The orchestra has roots at Austin High from as early as the 1920s. Stephen F. Austin High School was founded in 1881 and is the oldest public high school west of the Mississippi River.
The orchestra program consists of four orchestras—Camerata Orchestra, Philharmonic Orchestra, Recital Orchestra, and Chamber Orchestra—and placement is based on experience and time commitment. The orchestras and ensembles of orchestra students regularly perform at Austin High School convocations, receptions, and ceremonies. Selected students participate in TMEA Region and State Orchestras, Austin Youth Orchestra, and more.
Orchestra students are often top academic performers, National Merit Scholarship Finalists, Honor Roll students, and National Honor Society members. The dedication and discipline required to master their instruments and the leadership opportunities within the orchestra program teach skills that carry over to all other aspects of their lives, and their future endeavors in college and their careers.
The program's objective is to provide students with the opportunity to express themselves through music. Students develop a sense of pride, confidence, and fulfillment in meeting new challenges. They learn to perform in front of an audience and support and compete with a team. Playing a stringed instrument is also a deeply personal endeavor and a means of expression that requires students to commit their physical, emotional, and intellectual abilities. Students who learn to love music help ensure the vitality of music in our culture.
Our philosophy is that each member is vital to the continued success of the orchestra program, and we support the success of each student. Through commitment to hard work and team effort, we will be able to achieve even higher levels of success and fulfillment—together.
Stephen F. Austin High School is a 6A high school, offering grades 9-12, in the Austin Independent School District in Austin, Texas.